One problem with being an English major is that you get burnt out from reading so many books in a short amount of time, that it's hard to find a chance to read for fun. So here's a quick compilation of what I've read between March and now, which was mainly for class.
American Woman by Susan Choi
American Woman, this gifted writer's second book, is a novel of even greater scope and dramatic complexity, about a young Japanese-American radical caught in the militant underground of the mid-1970s.
When 25-year-old Jenny Shimada steps out of the Rhinecliff train station in New York's Hudson Valley, the last person she expects to see is Rob Frazer, a shadowy figure from her previous life. On the lam for an act of violence against the American government, Jenny agrees to take on the job of caring for three younger fugitives whom Frazer has spirited out of California. One of them, the granddaughter of a wealthy newspaper magnate in San Francisco, has become a national celebrity. Kidnapped by a homegrown revolutionary group, Pauline shocked America when she embraced her captors' ideology, denouncing family and class to enlist in their radical cell.
American Woman unfolds the story of Jenny and her charges -- Pauline, Juan, and Yvonne, the remains of the busted revolutionary cadre -- as they pursue their destinies from an old farmhouse in upstate New York back to California. Provocative, suspenseful, and often wickedly comic, the novel explores the psychology of the young radicals -- outsiders all -- as isolation and paranoia inevitably undermine their ideals. American Woman is a tour de force with chilling resonance for readers today.
Thoughts: It's an interesting retelling of the
Patty Hearst
story, however, this time the story revolves around
Wendy Yoshimura
, a Japanese American, who helped Patty run from the police. It's exciting in some parts, especially near the end when it just focused on Jenny (aka Wendy) and Pauline (aka Patty). While it took forever to get through the middle because it dragged on much longer than it needed to. I also wanted to slam my head a few times against a wall for the blatant racism these two different characters expressed.
Rating: 3 out of 5 stars
Dogeaters by Jessica Hagedorn
In Dogeaters, Jessica Hagedorn has transformed her best-selling novel about the Philippines during the Marcos reign into an equally powerful theatrical piece that is a multilayered, operatic tour de force. As Harold Bloom writes "Hagedorn expresses the conflicts experienced by Asian immigrants caught between cultures...she takes aim at racism in the U.S. and develops in her dramas the themes of displacement and the search for belonging."
"As sharp and fast as a street boy's razor" (The New York Times Book Review), Dogeaters is an intense fictional portrayal of Manila in the heyday of Marcos, the Philippines' late dictator. In the center of this maelstrom is Rio, a feisty schoolgirl who will grow up to live in America and look back with longing on the land of her youth.
Thoughts: The book is set in the Philippines after it became independent, showing how a country can't revert back to its original self without being influenced by the country that occupied it. An example would be how American products and media are heavily seen throughout the book. It's also a confusing book in the sense that there are a lot of characters, and it switches point of views often. Thankfully, there is a table of contents, so it's easy to make a legend of which chapter focuses on which character. The book is also interspersed with newspaper clippings and an anthropologist's thoughts about the Philippines, so you see both sides of the Filipino story, what people think it's like vs. what it's actually like.
Rating: 3 out of 5 stars
M. Butterfly by David Henry Hwang
Based on a true story that stunned the world, M. Butterfly opens in the cramped prison cell where diplomat Rene Gallimard is being held captive by the French government - and by his own illusions. In the darkness of his cell he recalls a time when desire seemed to give him wings. A time when Song Liling, the beautiful Chinese diva, touched him with a love as vivid, as seductive - and as elusive - as a butterfly.
How could he have known, then, that his ideal woman was, in fact, a spy for the Chinese government - and a man disguised as a woman? In a series of flashbacks, the diplomat relives the twenty-year affair from the temptation to the seduction, from its consummation to the scandal that ultimately consumed them both. But in the end, there remains only one truth: Whether or not Gallimard's passion was a flight of fancy, it sparked the most vigorous emotions of his life.
Only in real life could love become so unreal. And only in such a dramatic tour de force do we learn how a fantasy can become a man's mistress - as well as his jailer. M. Butterfly is one of the most compelling, explosive, and slyly humorous dramas ever to light the Broadway stage, a work of unrivaled brilliance, illuminating the conflict between men and women, the differences between East and West, racial stereotypes - and the shadows we cast around our most cherished illusions.
Thoughts: It's not
Madame Butterfly
if that's what you're thinking, don't worry I also made the same mistake when I first heard the title. It does reference
Madame Butterfly
a lot though, but it twists it around in a surprising way. Instead of the "Butterfly" character immediately falling for the white Frenchman, they're pretty sassy. And then they realize that their sweetness could be used to their advantage. Overall, it's a play loosely based on a true story about the relationship between Bernard Boursicot, a French diplomat, and Shi Pei Pu, a male opera singer. And it twists gender expectations and breaks many tropes along the way.
Rating: 4 out of 5 stars
How to Live Safely in a Science Fictional Universe by Charles Yu
From a 5 Under 35 winner, comes a razor-sharp, hilarious, and touching story of a son searching for his father . . . through quantum space-time.
Every day in Minor Universe 31 people get into time machines and try to change the past. That's where Charles Yu, time travel technician, steps in. He helps save people from themselves. Literally. When he's not taking client calls, Yu visits his mother and searches for his father, who invented time travel and then vanished. The key to locating his father may be found in a book. It's called How to Live Safely in a Science Fictional Universe, and somewhere inside it is information that will help him. It may even save his life.
Thoughts: It's metafiction, it's also like the movie
Inception
in a way, except it's in space and there's time travel. Time travel itself being really personal and more about going back into the past to fix your mistakes/regretting the mistakes you've made, except you can't fix it because it's already in the past. The main character, Charles Yu, is also just a regular, boring guy, not some hero who saves the universe from exploding. Overall, this book breaks what we think of science fiction by making it a personal story about the past and finding your family again, all without giant explosions, traveling to many planets, and villains.
Rating: 3 out of 5 stars
Creative Writing in the Community: A Guide by Terry Ann Thaxton
Creative Writing in the Community is the first book to focus on the practical side of creative writing. Connecting classroom experiences to community-based projects, it prepares creative writing students for teaching in schools, homeless centers, youth clubs and care homes. Each chapter is packed with easy-to-use resources including specific lesson plans; case studies of students working with community groups; lists of suitable writing examples; "how to..." sections; examples and theoretical applications of creative writing pedagogy and techniques; reflection questions; and writings by workshop participants. Enhanced by contributions from directors, students, and teachers at successful public programs, Creative Writing in the Community is more than an essential guide for students on creative writing courses and leaders of community-based learning programs; it is a practical demonstration of the value of art in society.
Thoughts: It breaks the idea of writing as an individualistic activity by bringing the community into it. It also adds more meaning to art, and it gives others who normally wouldn't have a voice a voice. As
already
mentioned in the summary, it's a guide about how to do a writers in the community program, and it has essays about the effects of it. I've had to read it for my class, while also doing a similar writers in the community program where I taught seventh and eighth graders about how fun creative writing is. And it's definitely a fun program to do; however, it's also challenging especially if it's just barely starting up.
Rating: 3 out of 5 stars
What Do You Do with an Idea? by Kobi Yamada, Mae Besom
This is the story of one brilliant idea and the child who helps to bring it into the world. As the child's confidence grows, so does the idea itself. And then, one day, something amazing happens. This is a story for anyone, at any age, who's ever had an idea that seemed a little too big, too odd, too difficult. It's a story to inspire you to welcome that idea, to give it some space to grow and to see what happens next. Because your idea isn't going anywhere. In fact, it's just getting started.
Thoughts: It's a cute little picture book about growing and expanding your idea before letting the world see it.
Rating: 3 out of 5 stars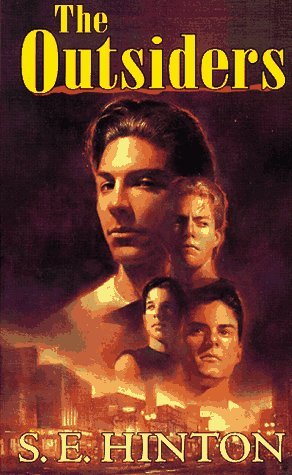 The Outsiders by S.E. Hinton
According to Ponyboy, there are two kinds of people in the world: greasers and socs. A soc (short for "social") has money, can get away with just about anything, and has an attitude longer than a limousine. A greaser, on the other hand, always lives on the outside and needs to watch his back. Ponyboy is a greaser, and he's always been proud of it, even willing to rumble against a gang of socs for the sake of his fellow greasers--until one terrible night when his friend Johnny kills a soc. The murder gets under Ponyboy's skin, causing his bifurcated world to crumble and teaching him that pain feels the same whether a soc or a greaser.
Thoughts: To be honest, I've read most of the book in eighth grade, but I never finished it or cared to till now. And, I can see why it's a beloved classic, it's full of characters that you could actually connect with a story that's pretty exciting and heartbreaking, and it doesn't trivialize teenagers. It's also one of the first young adult books that helped make young adult literature what it is now, and it was written by a young woman while she was still in high school. Which, I find pretty fucking cool because you don't often hear of teenagers writing about teenagers getting their work published, as well as, kickstarting a whole new literary category catered to their age group.
Rating: 4 out of 5 stars
And now the weather:
The Chainsmokers & Coldplay - Something Just Like This | Channa Mereya (Vidya Vox Mashup Cover)
~ Stacy N.