Oh my love for reading hasn't been going strong this month. College scholarships and FAFSA, is making me feel old. School is taking too much of my time. Sleep has been something that I avoid and crave at the same time. And youtube has been a constant distractor ever since I stumbled upon
365DaBand
. However, I've managed to squeeze in some time to read for fun, but it's oftentimes for school.
So without further avoidance, here are the mini reviews for February.
by Maggie Stiefvater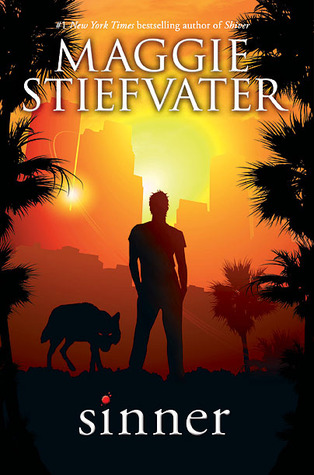 A standalone companion book to the internationally bestselling Shiver Trilogy.
Sinner follows Cole St. Clair, a pivotal character from the #1 New York Times bestselling Shiver Trilogy. Everybody thinks they know Cole's story. Stardom. Addiction. Downfall. Disappearance. But only a few people know Cole's darkest secret -- his ability to shift into a wolf. One of these people is Isabel. At one point, they may have even loved each other. But that feels like a lifetime ago. Now Cole is back. Back in the spotlight. Back in the danger zone. Back in Isabel's life. Can this sinner be saved?
My thoughts: Isabel and Cole reminds me of my characters Eliza, Peter, Lana, and Parker. They're wild and reckless, in a way. They also remind me of myself, especially Isabel. Just trying to be empty, but can't. And when I was reading about Isabel's and Cole's relationship, I wasn't quite satisfied. What annoyed me was that they didn't communicate enough about what was going on in their own lives, and about why they were acting that way. Instead, they simply assumed or never questioned each other about what was happening in each other's life, especially on Isabel's part. And that eventually lead to reckless mistakes.
I've also noticed that Maggie Stiefvater likes fancy cars.
Rating: 3 out of 5 stars
by Stephen King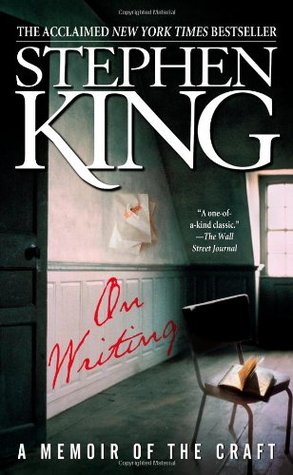 "Long live the King" hailed "Entertainment Weekly" upon the publication of Stephen King's "On Writing." Part memoir, part master class by one of the bestselling authors of all time, this superb volume is a revealing and practical view of the writer's craft, comprising the basic tools of the trade every writer must have. King's advice is grounded in his vivid memories from childhood through his emergence as a writer, from his struggling early career to his widely reported near-fatal accident in 1999 -- and how the inextricable link between writing and living spurred his recovery. Brilliantly structured, friendly and inspiring, "On Writing" will empower and entertain everyone who reads it -- fans, writers, and anyone who loves a great story well told.
My thoughts: I know this has been said before, but Stephen King is a damn genius. As well as very honest. Unlike some of the other writing books that I've read in the past, this book was far from boring. It starts off with some of King's past stories that helped shape him as a writer. And it's funny or sad or joyful, depending on the story.
After that, came the writing process from when you first get an idea to the editing. And instead of covering everything there is to it, Stephen King goes for the main points. Such as how to deal with passive voice, how much you should edit out, and dialogue. And he's concise about it too, because he doesn't use a technical word on every page. Plus he still adds in comments about a few of his books and his life, with a writing voice that interests people.
So definitely read this when you get the chance.
by J.K. Rowling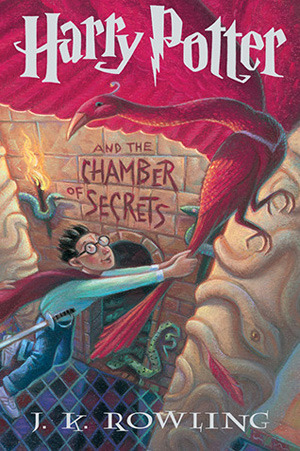 The Dursleys were so mean and hideous that summer that all Harry Potter wanted was to get back to the Hogwarts School for Witchcraft and Wizardry. But just as he's packing his bags, Harry receives a warning from a strange, impish creature named Dobby who says that if Harry Potter returns to Hogwarts, disaster will strike.
And strike it does. For in Harry's second year at Hogwarts, fresh torments and horrors arise, including an outrageously stuck-up new professor, Gilderoy Lockheart, a spirit named Moaning Myrtle who haunts the girls' bathroom, and the unwanted attentions of Ron Weasley's younger sister, Ginny.
But each of these seem minor annoyances when the real trouble begins, and someone--or something--starts turning Hogwarts students to stone. Could it be Draco Malfoy, a more poisonous rival than ever? Could it possibly be Hagrid, whose mysterious past is finally told? Or could it be the one everyone at Hogwarts most suspects...Harry Potter himself.
My thoughts: After reading a few pages, putting it off, read one or two more pages, and putting it off, I finally sat down yesterday after school and read it. And despite, already knowing what happens (thanks movie version), I still enjoyed the book. I like how J.K. Rowling doesn't describe everything, making it nice to interpret the story my way. I also like how fast paced the story was. And it was nice to see the character development in Ginny. Going from a Harry Potter fangirl, to one who was able to recognize what Tom Riddle was making her do, and trying to tell Harry about it. It's also nice to see Hermione swoon a bit over Lockhart, and breaking the rules. Because that shows that there's more to Hermione, than someone who's good at school. I also couldn't help but feel bad for Harry because of all the abuse he's getting from the Dursleys.
Rating: 4 out of 5 stars
by Thomas R. Arp, Greg Johnson
There's no better way for you to learn about poetry and understand its elements than with PERRINE'S SOUND AND SENSE. Both a concise introduction to poetry and an anthology, this classic best-seller succinctly covers the basics of poetry with chapters on evaluating poetry, exemplary poetry selections that you'll enjoy reading, and exercises that help you understand each selection. Every poem included in this collection is not only a perfect illustration of the poetic concept at hand, but a remarkable work in its own right.
My thoughts: This was one of the many books that I had to read for my AP English Literature class this year. And it was, unsurprisingly, one of the more boring ones. However, it wasn't like any other textbook that I've read. The author wrote it in a way that a typical person can understand it, with no big, fancy words on every page, and with very few technical terms.
I also like some of the poems that were in there, even though figuring out their tone was hard. And it was nice to know that a poem can sometimes not have some special meaning. That a poem can be about
eating blackberries
, and that's it. After all, the purpose of a poem is to communicate experience.
P.S. This book also made me realize, how much I don't like annotating poetry, or writing essays about it. *Sighs*, I'm totally going to pass the poetry free response on the AP exam.
Rating: 3 out of 5 stars
And now the weather:
Oh My Love by 365DaBand
(I can't help but find their English lyrics hilarious)
Uptown Funk by Mark Ronson ft. Bruno Mars
~ Stacy N.